ConFoo Web Techno Conference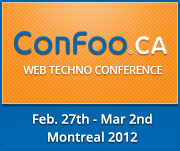 ConFoo is the unique web conference in Canada gathering different tech communities in one place.
find working solutions for your day to day challenges;
discover new tools that increase your productivity;
network with people from some of the world's biggest companies;
160 presentations focusing on core competencies improvement;
Don't miss this great opportunity and register today! Also check out our two training days around PHP, HTML5, Symfony2 and security topics right before the conference.